the treatments
Explore our suite of injectable treatments to subtly restore your skin's youthful appearance
01
Anti-Wrinkle Injections
+
01
Anti-Wrinkle Injections
Includes: Botulinum toxin injected locally into muscles of facial expression, causing muscular relaxation.
Ideal For: Reversing the changes in facial muscle dynamics associated with fine lines and wrinkles, whilst still allowing movement and expression.
read more
02
Dermal Fillers
Includes: Hyaluronic acid-based dermal filler injections into areas of the face aimed to replace and restore lost volume.
Ideal For: Restoring lost volume in the midface, cheeks and jawline, and softening lines and wrinkles in the areas of the face which may have become slightly deflated over time.
read more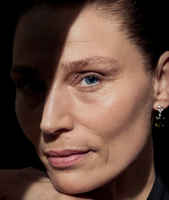 03
Profhilo
Includes: Delivery of injections of thermally-crosslinked hyaluronic acid into the dermis of the skin to treat skin texture irregularities, crepey-ness and fine lines and wrinkles.
Ideal For: Rebuilding lost collagen and elastin, boosting hydration, improving skin laxity and overall skin quality.
Price: From £450 per syringe
Read More
04
Nucleofill
Includes: Injections of polynucleotides at several points in the target area, which stimulate the fibroblast cells to produce collagen and improve skin quality while decreasing the appearance of fine lines.
Ideal For: Providing deep skin hydration, smoothing fine lines and wrinkles, boosting collagen and elastin levels.
read more
05
Lip Enhancements
Includes: Strategical injections of dermal filler in the lips in areas of volume loss, that will naturally restore the contours of the lips in a subtle and gentle way.
Ideal For: Replacing lost lip volume to restore and hydrate the lips.
Read more
06
Tear Trough Filler
Includes: A dermal filler injectable that targets the tear trough area to restore hollowness, volume loss and dark circles.
Ideal For: Rejuvenating of the under-eye area by replenishing lost volume and helping create a smoother, more youthful appearance, reducing the sunken or tired look.
read more