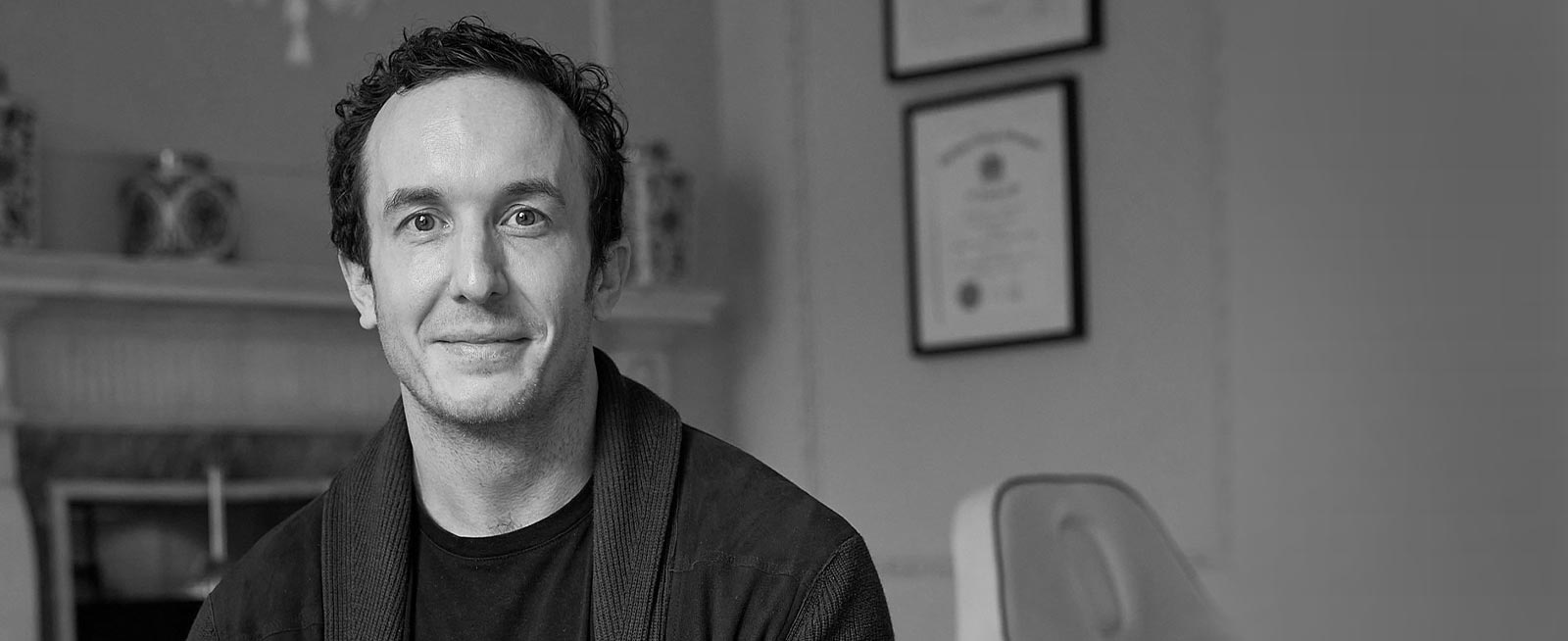 DR. DAVID JACK IS A LEADING LONDON BASED AESTHETIC DOCTOR, WHOSE BUSY HARLEY STREET CLINIC INSPIRED HIM TO CREATE A SIMPLIFIED BUT EFFECTIVE SKINCARE REGIME THAT TREATS SKIN HEALTH FROM THE INSIDE OUT.
Dr. David Jack is one of a new generation of medical doctors turned entrepreneurs. Born and raised in Scotland, where he studied medicine, anatomy and embryology, Dr. Jack's clinical career both in plastic surgery and aesthetic medicine allowed him to travel extensively and experience a wide range of specialities., especially during his time with the NHS.

Looking to develop his strong commitment to improve all aspects of skin health, Dr. David Jack established his acclaimed clinic on London's Harley Street, where he specialises in aesthetic medicine and anti-ageing treatments.
Due to popular request from his clients, he launched Dr. David Jack skincare in 2018. The brand encompasses the simple but effective concept of integrative skincare, which offers products that optimise skin health both topically and from within, with supplement support. The products have a firm scientific basis, utilising active ingredients, and high quality formulations for tangible results that target all skin types and concerns.
"I believe strongly that healthy skin is a reflection of a healthy body within. With my skincare line, I wanted to create a simple and effective range utilising the very best curated, evidence based active ingredients, and also products to optimise skin health from inside out"
Dr. David Jack
Ethos
SIMPLIFIED LUXURY SKINCARE
HOLISTIC APPROACH TO SKIN HEALTH
VEGAN FRIENDLY & FREE FROM
ONE PUMP PRINCIPLE
The Dr. David Jack range of topical skincare products are designed to be effective for all skin types and concerns, without the complication of a multi layering, excessive regime.
The core topical skincare programme consists of the 3 essential products you need; Good Morning! All Day Long and Good Night! to renew, protect and repair your skin daily and with high grade active ingredients, for optimal results without irritation. Our face peels are ideal weekly boosters to add on to this core daily range for specific skin care concerns such as acne or pigmentation.
Dr. David Jack is the first doctor led brand of its kind to offer a fully integrated approach to skin health, with equal weighting to both topical skincare products and oral supplements.The message that skin health depends on the holistic wellbeing of the internal environment of the body is key and is based on the extensive clinical experience of Dr. David Jack.
Currently, seven oral supplements are offered in addition to the topical skincare range. The award winning supplement range also addresses the environmental effects on the skin such as stress and poor sleep.
Effective skincare that doesn't harm your skin or the environment, is at the core of Dr. David Jack's ethos. Dr. David Jack's products are proud to be made with vegan friendly ingredients and are cruelty, paraben, SLS, silicone and PEG free.
We also use recyclable packaging where possible and our skincare products come in glass, not plastic. Our supplements are gluten free, low sugar and vegan friendly.
Dr. David Jack's One Pump Principle™ ensures you keep product waste to a minimum whilst getting a months supply out of each topical skincare product. The key daily products Good Morning!, All Day Long! and Good Night! come in a glass jar with one pump shot enough to cover the whole face and another pump for the neck.
"The Harley Street-based doctor puts as much emphasis on nutritional supplements as he does on skincare. In just 3 months, expect plumper, brighter-looking skin-and a flurry of compliments."

- TATLER -
"Renowned aesthetic doctor, Dr David Jack, knows what it takes to look great, which is what makes his supplements stand out from the crowd."

- GLAMOUR -
Simplified Skincare Explained
SKINCARE REGIME
Dr. Jack talks you through his 3-step daily skincare regime, with all the active ingredients you need, to renew, protect and repair skin from morning to night.
SHOP NOW