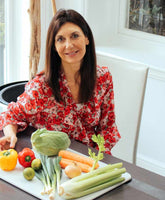 what it involves
The work begins before your consultation, where Andy will assess your past and existing health and lifestyle history, with an in-depth Nutritional Therapy Questionnaire that includes:
Lifestyle: to assess overall lifestyle -  typical diet, exercise habits, stress levels, and sleep patterns.
Symptoms: specific symptoms or health concerns, such as digestive issues, skin problems, or low energy levels.
Medical history: to understand any pre-existing conditions, medications, and allergies that may impact dietary recommendations.
The consultation will include highly personalised dietary recommendations to optimise nutrient intake and support your health goals.
Depending on symptoms, a recommendation for specific functional tests to assess nutrient status, digestive health, hormonal balance, and other factors may be advised.
Specific supplements may be recommended to address any nutrient deficiencies or health concerns identified through testing or symptoms.
In line with Dr. Jack's approach to treating the skin, we know that optimal gut health is a journey, not a race and requires expert guidance along the way.
Andy will arrange a follow up appointment 4 to 6 weeks later to monitor progress and make any necessary adjustments to the plan.
The goal is to put arm you with the knowledge and tools to regain control of your gut health, for a happier, more-balanced and stress-free daily life.